The following videos, images and the Op AURORA case study are for creative brainstorming and coverage planning discussions with Canadian Armed Forces (CAF) members.
Images shall not be used for publication or any other purpose without prior written consent of the rights holder (some Sean Costello, others Government of Canada/DND).
1. FaceBook cover pages – CAF Pages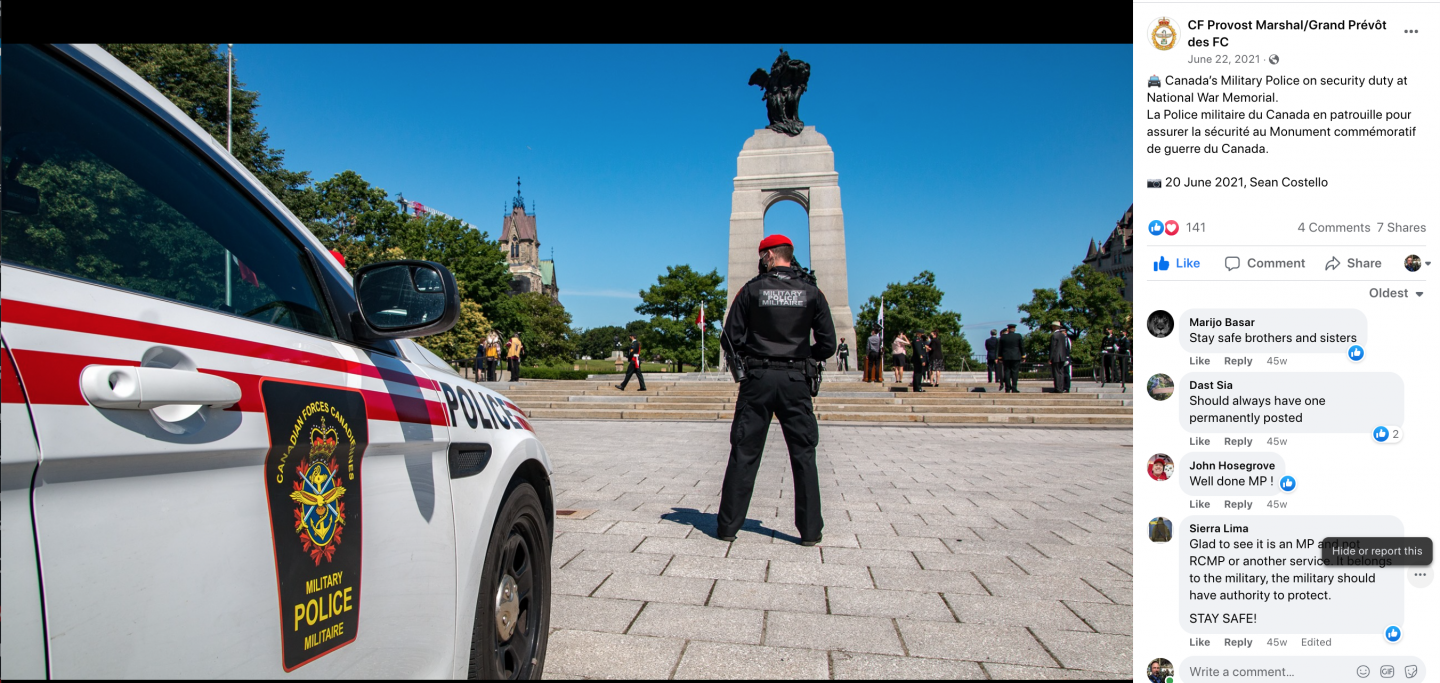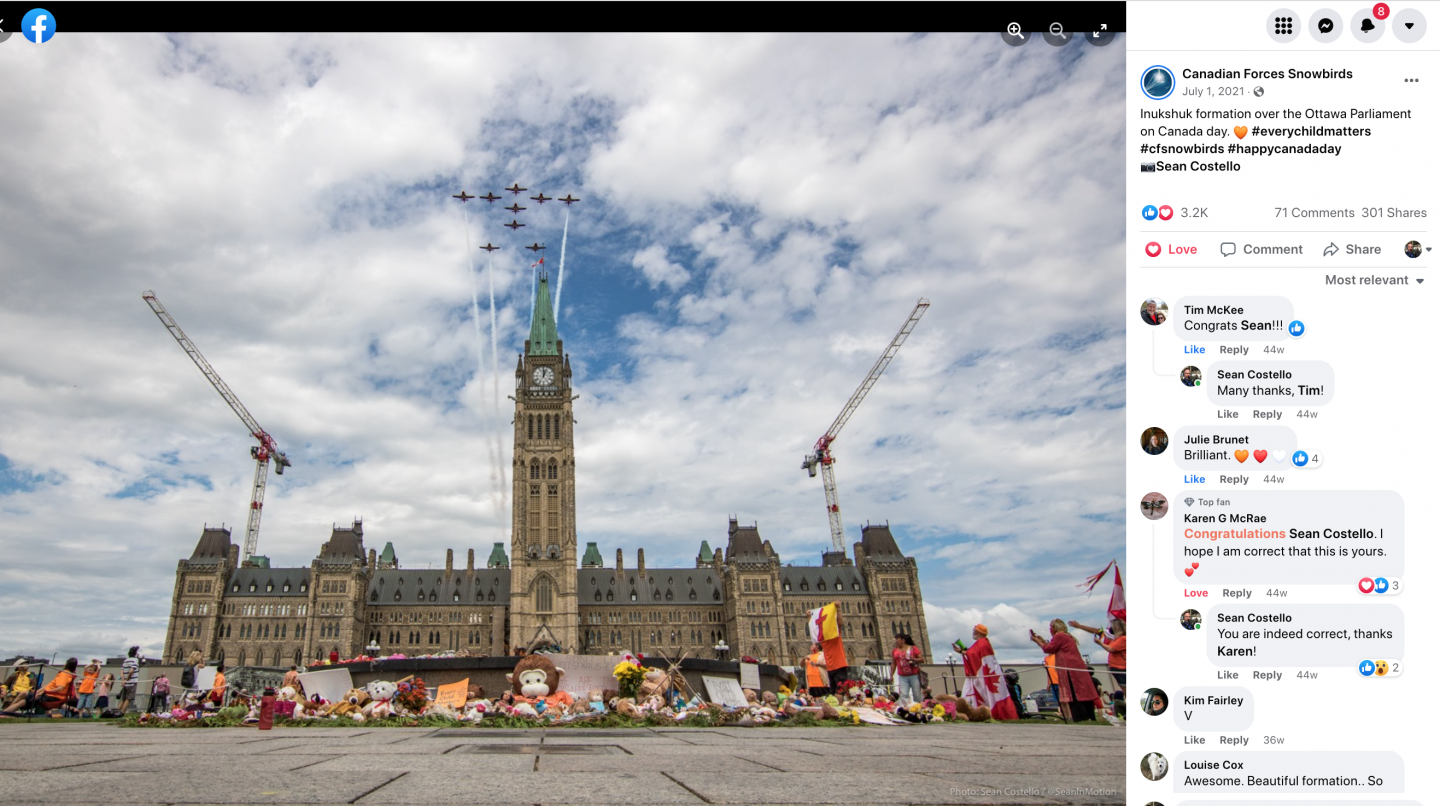 2. Assorted imagery (click to enlarge)
3. Videos / footage samples
F-35 B: Storyboarding, footage, interviews, editing – all 100% Sean Costello
Trust and Contracts: Storyboarding, editing 100% Sean Costello; footage also, except for Snowbirds 'tank-cam'
CF MP Gp – Range:  Sean envisioned, captured the footage only / editing by co-worker (Image Tech)
CF MP Gp – Air Marshal:  Sean envisioned, captured the footage only / editing by co-worker (Image Tech)
Cadets Canada – 436 (T) Sqn CC-130 Famil Flights:  Sean's imagery, video is still forthcoming (event was Sat 7 May 22)
5. PA tasking case study: Operation AURORA (UPAR)
Situation
Op AURORA, conducted over 3 consecutive weekends in January-February 2020, was a multi-location training activity planned and executed by staff within Regional Cadet Support Unit (RCSU) (Central).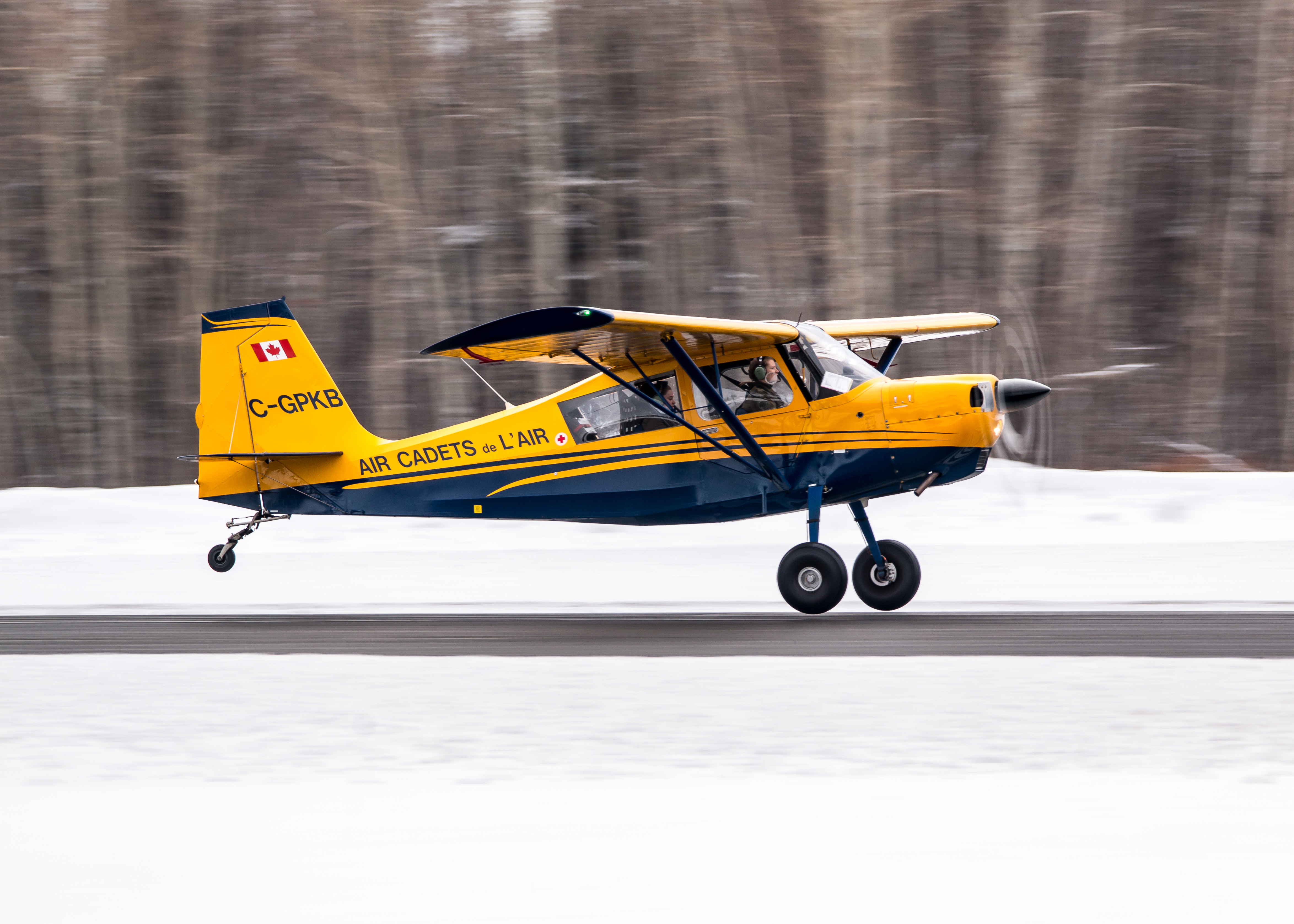 The mission of the Op was to make familiarization flight opportunities available to as many of the Air Cadets in Northern Ontario as possible, using a pair of 2-seat glider tow planes which were dispatched to Dryden, Thunder Bay and Timmins, ON.
My Role
I was tasked with joining the Op in the role of UPAR for the final two weekends (Thunder Bay and Timmins), having been advised that were some media concerns in play:
1) a Thunder Bay cadet, who is very active in the program despite having exceptionally poor vision, had been described by media as "Blind cadet participates in…", despite requests from the family to focus on the person first, and
2) Timmins area politicians were vocalizing predictions and making statements with respect to a nearby gliding centre.
My Approach
1. Devise a Plan
During my Friday travel to Thunder Bay, I knew that I was joining an underway operation. The planes and Air Ops staff were already going to be in theater, with the first cadets expected to be flying even before my flight arrived. Strategically, I recognized that I required additional details beyond what was currently available or known by me (such as the exact door/location/directions to which I would be inviting the media to attend, and the specific times that Air Ops would deem appropriate to welcome media, considering their flying schedule and weather), to initiate media outreach.
I did have enough data to draft a media advisory. Concurrently, I scoured social media to identify local journalists, and drafted tweets and invitations to use once I was on the ground and better informed. I would also have the assistance of a CAF Image Tech for 1.5 days, so plans were required to maximize that resource and opportunity.
2. Adapt the plan, communicate the plan
Immediately upon arrival, I met with the OIC for the weekend. Upon confirming which areas of the hangar were available to conduct interviews, when flight ops were expected and how many cadets were expected from each area squadron, I was able to update and distribute the advisory. I was able to secure coverage from CBC Radio, scheduled for mid-day Saturday; flights were grounded mid-day on Sunday due to weather.
For the Image Tech, we outlined a video storyboard and began to shoot the required content for the "day 1" video. Avr Casse would edit, while I would interview cadets for Hometowners and obtain walk-out/walk-back photos and interviews.
3. Execute the plan, revising and publishing in anticipation of the next phase
A series of short, fun videos were created and uploaded as FaceBook posts, while short tweets were written to feature key messages and attractive still images. I performed research into potential publicly accessible spots along the far side of the airport property which could be leveraged to obtain unique still and video imagery of flight departures, and called back to the flight line to update the OIC and request certain movements, if safe to do so. The results became Thunder Bay's "Day 2" video (below), which was then able to be used as a teaser for my Timmins area outreach efforts.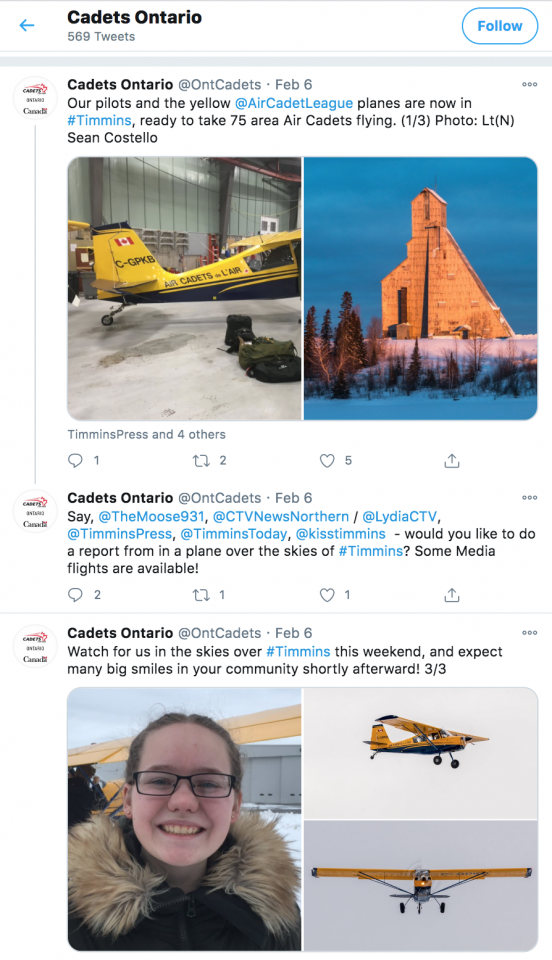 My goals were to:
a) provide visibility to the community about our presence and plans,
b) proactively populate social media with the answer to the future question, "what are those two yellow planes doing, circling again and again?", and
c) by tagging specific reporters, I was able to make personal offers – which got media out!
In addition to successfully attracting three media outlets, I received the confirmation of regrets with thanks from the previously vocal/concerned MP's office (he was out of country), and was also able to welcome the Mayor of Timmins up for a flight (after ensuring that all waivers were signed).
The final critical tick in the box: I was able to get the journalist who had previously run the MP's story about perceived lack of flying opportunities in the area, up in the air, resulting in him filing a CTV news report:
CTV News
https://northernontario.ctvnews.ca/air-cadets-give-northerners-surreal-flying-experience-1.4803321
Timmins Press
https://www.timminspress.com/news/local-news/local-air-cadets-fly-high
Timmins Today
https://www.timminstoday.com/local-news/youth-exploring-timmins-from-above-3-photos-2079539
4. While enroute to Thunder Bay, I had pitched Skies Magazine with an offer to supply them with an overview report of Op AURORA, which they agreed to run following the conclusion of the third weekend. This opportunity was shared with the RCSU CO early in the Op, allowing approval to be obtained and for adequate focus to be placed on acquiring high quality supporting images and details (Skies is a visual publication, relying heavily on high-calibre photography). As an aviator himself, the CO requested that he review and approve the story before it went in for publishing, which meant an increased amount of coordination and time as we arranged the edits and adjustments.
In the meantime, I stayed in touch with the reporters who had engaged previously, providing updated statistics and additional footage, sometimes even of them during their media flight. This triggered a small uptick in re-posts and re-telling of the stories, which was good to see.
When the final, edited version of the story was approved by the CO, it was forwarded to Skies editorial staff, and it ran shortly afterward.
SKIES Magazine
https://www.skiesmag.com/news/air-cadets-enjoy-a-taste-of-winter-flying/